Ins, outs of college life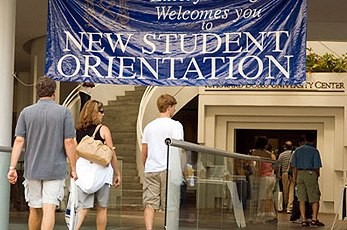 Seniors, it's becoming that time of year again. AP finals, our last day, and the long awaited graduation. For those of us going the college route, that means stressing over decisions, majors, and money. Here's a little guide to navigating the confusing brochures all those colleges are sending you, and remember: decisions for most colleges are due May 1st.
Financial Aid
The first step to receiving financial aid for college is to fill out the FAFSA. FAFSA stands for Free Application for Federal Student Aid and most students are required to fill it out. The FAFSA can be filled out any time after January 1st of the year you'll be attending college, but it requires tax information, so it's advised to have your/your parents' taxes file while you fill it out; otherwise you'll have to go back, refill it out, and re-sign everything. This form is sent out to your colleges of choice in order to receive extra financial aid from them. You need to apply for FAFSA every year, as financials change every year.
It's always a good idea to apply for scholarships as well. These are free money awarded to those who meet the scholarship's standards that you don't have to pay back. Many colleges give students conditional scholarships; they only apply if you go to that school, and usually must be applied to every year, and will go away if you don't meet the standards (usually maintaining a certain grade point average). Other scholarships that you may have applied to and won will give you a certain amount of money to go to the college of your choice. These may or may not be recurring, so applying for scholarship throughout all your years in college is a good idea.
Next, we have grants. These are very similar to scholarships, and most places may use the words interchangeably. By definition, grants are sums of money given by an organization (especially the government) for a particular purpose that does not need to be repaid. Usually, students must apply for these with some form of essay to be sure they qualify for that purpose.
Moving on, there are many types of loans, and they can be confusing if you aren't in the know. Students can only borrow up to $5,500 in loans and the rest must be borrowed by a parent or guardian. These loans are determined by your FAFSA submission.
Two types of loans are subsidized and unsubsidized loans. "What's the difference?" many students ask. A subsidized loan is one undergraduates may file for if they need financial aid, and your college will determine the amount you may borrow. These loans typically have slightly better benefits to the student because the US Department of Education pays the interest rate for students who are in school at least half the time, for six months after leaving school, and during a period deferment. Unsubsidized loans, on the contrary, can be filed by either undergraduate or graduate students, whether they demonstrate financial need or not. Unsubsidized loans also run at higher interest rates. Again, your school will determine the amount you can borrow. Students must always pay the interest rate. With both types, there are time limits and other restrictions that apply. There are dozens of places on the internet that offer student loans, so it's advised to read up on what they offer before applying for one.
Once you've accepted your loans from you intended school, you must complete a Master Promissory Note, a form promising the full repayment of loans. You must also complete entrance counseling if you are a new lender. Your loans will not apply to your financial aid report until these are completed.
The money aspect of college is easily the most stressful, so let's move on to some of the fun things about college.
Room and Board
For many colleges, having a roommate isn't an option, it's a requirement. First years that live on campus usually are not allowed a car, except for special circumstances that must be worked out with the administration. In order to receive your roommate, you must fill out a form that's different for every school; for mine, it asks for sleep habits, cleanliness, and interests. Many larger colleges pair up people in the same major, so it's essential you can get along with someone you'll be spending 90% of your semesters with.
Most colleges require students who live on campus to purchase a meal plan; student commuters can fend for themselves. Most plans account for two, three, or more meals a day depending on the type. At my college, I was recommended many times to go with a meal plan one smaller than I thought I needed; you can always change the meal plan or add money to it later.
When you visit your college, ask what is and isn't allowed in dorm rooms; it's different for every school. They may or may not allow coffee pots, microwaves, or mini fridges, so always ask someone if it's allowed before you purchase one. Just about every college doesn't allow pets of any kind; some accept fish.
Federal Work Studies and On-Campus Jobs
Just about any campus in the country will have positions for work studies. A work study is just a fancy name for an on-campus job. Work studies advertise as a way to help afford college, but most direct deposit your checks into your bank account, allowing you to decide what the money goes to.
Many times, work studies are jobs related to your field of study. Education majors may work at a preschool, or nurses as a CNA at an on-campus wellness center.
There are also on-campus jobs that don't relate to your major and serve as a part-time job. These include café baristas and mailing room assistants.
One commonly sought after on-campus job is resident assistant, or RA. RA's usually receive free room for that year, roommate free. They must oversee their entire dormitory hall or floor, taking a role of responsibility for keeping the peace, and helping out when minor accidents occur. They must remain professional, being a role model to their peers. Many times, they work as a first step counsellor to their peers when disagreements arise, in order to fix the issue before it gets out of hand. The RA position is often one given to upperclassmen only.
J-Terms
Many, not all, colleges offer J-term classes. J-terms are month-long classes taken during winter break (hence the J). Students receive credit for completing these courses. Often times, J-terms double as exchange programs, where students go out of the state or country to learn something specific to their destination. Most colleges offer these as an extra program, and will not provide financial aid for their students to attend these courses.
There's so much to know about college from the perspective of a high school student. Between classes, loans, and exams, it all can be overwhelming. Hopefully, this guide will help make this next step a little less stressful for seniors who don't know what quite to do next.
Leave a Comment