Thank you, teachers!!!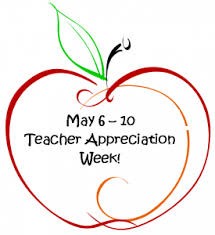 There are excellent teachers at New Berlin West.  Teacher appreciation is a week where students can show how much the teachers mean to them and recognize all their hard work and dedication.  This nationally recognized week is May 5th through the 10th.
Student Government members at West have organized special events for the teachers.  On Monday May 5th, the teachers will receive a note pad and pen in their mailboxes.  On Tuesday the teachers will enjoy a 7:00 am breakfast before they start their day.  On Wednesday, teachers will be entered in a raffle to be eligible to win one of the three baskets, a Brewers basket with tickets and accessories to guarantee a good time.  The second basket is a family trip to Noah's Ark, and the final basket will include State Fair tickets.  On Thursday, Student Government members will tag team with the crockery company and have a cook out for the teachers.
Starting on Tuesday, there will be a table at lunches where students can write their teachers notes which will be delivered to the teachers on Friday.  If you have a favorite teacher or notice that one of your teachers in particular is working extra hard to help his or her students achieve, write them a note telling them how much you appreciate them!  Senior President Kia Richards believes that, "teacher appreciation week is really important to our student government.  A lot of kids don't really understand how much time and effort our teachers and staff put into their job and our education.  We don't see the teachers that come in early and stay late just to help the students at New Berlin West.  The least we can do is show our staff that we actually do care.  This week is for them and they deserve every bit of it!"
Leave a Comment