Six Flags opening day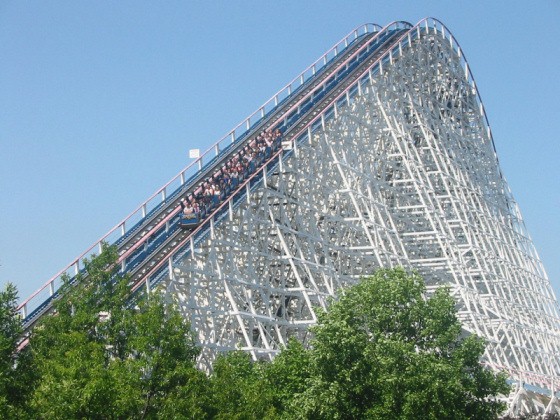 Six Flags Great America in Gurnee Illinois was crowded with people for the new season on Saturday May 3, 2014. The park opened at approximately 10:30 a.m. and closed at 8 p.m. Most everything at the park was the same, but there were a few changes.
After getting bags/purses and yourself checked, you head over to get your ticket scanned. This year you can scan your ticket under a machine, a person does not scan it anymore. If you have a season pass voucher, you scan the paper ticket and then have to press down your right index finger. The person standing over the machine will then give you your season pass card and you just have to sign your name on the back of it and you are good to go. This is a new edition for the 2014 season.
The newest edition to the park is the new rollercoaster, Goliath. This rollercoaster is not yet up since it is still under construction. Six Flags plans to have the roller coaster done by the end of the 2014 season. This is a wooden roller coaster that reaches up to 72 mph and a height of 180 feet. It is going to be the world's tallest, steepest, and fastest wooden roller coaster! Go to http://content.sixflags.com/comingin2014/greatamerica/goliath/ to see the construction and how the roller coaster is going to go.
Monica Johnson, a fellow park goer, said as we walked past the guys working on the roller coaster, "I knew it would not be done, but I cannot wait for it to be done. This is going to be such a heart racing, but fun roller coaster. I'll be here the day it opens."
The rest seemed to be the same. There was Jimmy Rockets, funnel cakes, and the pretzels with cheese. The rides had long wait times as usual, 60-90 minutes; especially X-Flight, Batman, and Superman. From throwing darts, to popping a balloon, to throwing a ball at or in something to win a huge stuffed animal, the games were all the same. And of course, no one can forget the famous carousal. No matter how old you are, go on it.
All in all, opening day was a long, but successful day. I will be making a few more trips down throughout the summer. Johnson said to me as we were walking out of the park, "When are we going again?"
Leave a Comment