Dungeons and Dragons club seeks adventurers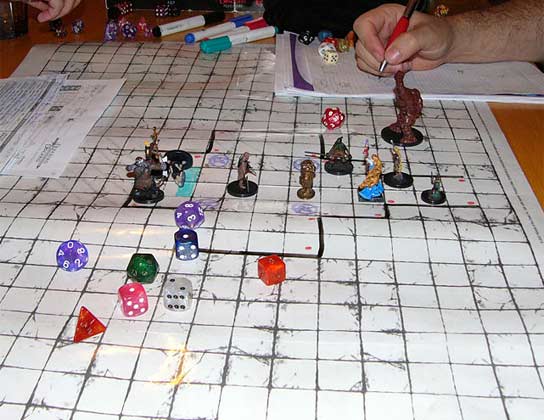 Dungeons and Dragons is a form of tabletop game based around roleplaying and fantasy, with multiple different variants and story elements. The original, created by Gary Gygax and Dave Arneson in 1974, was considered the father of all modern roleplaying games.
Usually a single dungeon master, essentially the 'referee' and storyteller, controls the game of multiple other players roleplaying as their characters. Nearly anything imaginable (and allowed by the dungeon master) can happen, but must first be decided by the roll of dice.
Although the game has been stereotyped into something that only 'nerds' and 'geeks' play, the game is always open to anyone, especially now that a dungeons and dragons club is being started at New Berlin West.
What started as a couple of friends creating their first game, soon became a plethora of people all playing with a single dungeon master. It got to the point where the original members thought maybe it was time to begin sharing how to become a dungeon master, and teaching even more people to love dungeons and dragons as a whole.
Although the founders of D&D club were a little afraid that the club would not be approved by the school board, it didn't take long to find that they were now the owners of a new club based solely around something they all enjoyed. It started with Hunter Baker, Jimmy Karolek, Alex Zerman, Dan Bonin, who are now some of the leaders of the club.
The first meeting, held on February 27th, 2017, was attended by around 15 or so people, "which is right around what we [The group leaders] expected from hearing what friends and others said". The meetings are now being held every monday after school, for around an hour, consisting of a couple different D&D activities. Being that it's still close to the beginning of the club, the meetings are still generally open to anyone willing to join, and are more about creating characters and learning how to play rather than experiencing actual games.
Hunter Baker, one of the founders, was very humble towards his influence on creating the club, and wants to stress the influence Jimmy Karolek and Alex Zerman had in being the creators. Baker is very enthusiastic about the club, encouraging people to join for the "safe, creative environment" offered and to be ready to "have fun and not worry about public ridicule".
There was no lack of excitement in his voice as he described his 'Bearkin' race that he himself had designed specifically for the game. "It was so strange and fun creating a singing koala. I even mocked a dragon to death at one point", he exclaimed with a wide grin. It was quite evident that Baker enjoys the club exceptionally, and would love to see more people join, especially if they were willing to express themselves as much as he does himself.
Another leader to the group, Dan Bonin, was interviewed to get another perspective into the founders of D&D club. Originally gaining interest from a game called 'Munchkin', Bonin loves tabletop RPG's for how "fun and versatile" they are, and that they can lead "basically anywhere". Although Bonin encourages those interested in D&D to join the club, it seems that both Baker and Bonin would agree that anyone with a creative imagination and looking for a fun experience would fit in very well among the other members of D&D club.