The 25 Million Dollar Question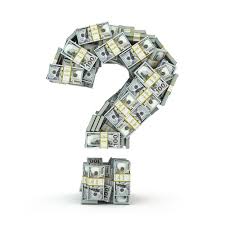 When thinking about numbers, deficits, projections, budgets, and money it can get confusing. This mess of numbers and ideas gets easier to understand once a couple of questions have been answered. Questions including what even is a referendum, what would this referendum really mean for students, why are we in this situation, how bad is the situation, what's the best solution and more?
To make things easy let's start with answering the question of how we got into this mess in the first place. There is not a very clear answer to how this debt was created because it was the combination of a variety of expenses adding up.
The biggest contributing factor by far is the annual debt payments that are required to pay off the 3.7 million dollars used for previous NBW and Ronald Reagan Elementary renovations. However, there are some smaller contributors as well, such as the recent trend of declining enrollment over the past couple of years, new technology, a trend of rising operational costs, needed expenses to stay within the American Disabilities Act and so on.
The result of all of these expenses is a debt that continues to build up and many people are asking how bad the debt is, and how long will it take to pay off. According to recent projections put out by the school board, it is estimated that we will have an annual debt of 3 to 4.3 million dollars every year for the next 10 years.
Many residents in the New Berlin School District Area have asked if we are in so much debt, then how are we going to repay it all? To answer this question we need to first look at how schools are funded.
Schools are funded by the district and the district gets money in mainly two ways. The first way is by state funding and the next is by the local taxpayers. Districts in low income areas get more funding from the state as the community is less able to pay the same amount as in higher income areas.
The School District of New Berlin (SDNB) is in what is considered by the state to be in a richer area and thus SDNB gets less funding from the state. Therefore it is expected that the local taxpayers make up for this difference, however, as of the last decade or two, New Berlin has become synonymous with low taxes and therefore that difference in funds is due to local lawmakers trying to keep taxes low.
As with many problems, this budget crisis has many solutions. Which is why SDNB has spent the last year or so informing local residents of the issue and the possible solutions. Some of these solutions include consolidating high schools, closing an elementary school, creating an educational foundation, or a referendum. To find out how the community wanted to solve this issue the school board sent out a survey in the spring of 2018 to all community members.
The results of the survey, posted on the SDNB website, is from 2,070 responses. Then those 2,070 responses were put into two categories. The first category of 589 responses included only people that did not have kids currently attending any SDNB schools and/or did not have kids too young to enter any SDNB schools yet, as well as were not employed by SDNB. The second category of 1,964 responses included only people who did have students currently attending any SDNB schools, as well as not employed by SDNB.
The overwhelming majority in both categories said that protecting the schools, the students, and their resources is an absolute priority. However, when it came to deciding how to keep these things intact the respondents were split on the best solution. After analyzing the different responses, it was determined the majority were in favor of a referendum.
A referendum is essentially just a political question on a ballot to give a direct decision relating to what the community wants to happen relating to a problem or situation.
The School Board then got together after having many informational meetings and public hearings and reviewing the survey results and ultimately voted to put the referendum on the spring ballot.
The exact question that will be on the ballot will be as follows, "Shall the School District of New Berlin, Waukesha County, Wisconsin, be authorized to exceed the revenue limit specified in Section 121.91, Wisconsin Statutes, by $5 million per year for the 2019-20 school year through the 2023-24 school year, for non-recurring purposes consisting of operational expenses, including paying debt within the operating budget; funding long-range plans for facilities, equipment, safety, technology infrastructure, and curriculum and instruction; and fair and competitive staff compensation?"
The question is asking whether the SDNB can go past their revenue limit by 25 million dollars overall for the next 5 years. What happens next is decided if the majority of the local voters vote yes or no.
The community is split on the decision and can be categorized into three groups. The people that are voting yes, the people that are voting no, and those who are still undecided.
If the voters vote yes then the main outcome for adults would be a $100 dollar tax increase for every house valued at $250,000. It is very important to understand that the $100 is not a concrete number but an average and it almost certainly will vary according to the actual property value.
"Our New Berlin homes are valued so much higher and sell so much faster because of [New Berlin's] excellent schools," states Elmwood parent and representative of the "Vote yes 4 New Berlin Schools" Facebook group, Ann Szeflinski. Szeflinski later talks about how similar houses that are built at the same time in the same neighborhood but are valued less because they are not in the School District of New Berlin.
This is why Szeflinski is pushing New Berlin residing parents with kids that are either homeschooled, attend private schools, or attend a school in a different district to vote yes because it affects them too.
However, for the students, nothing would really change as all current academic programs and extracurriculars would be funded as they are now. If the voters vote no then the main outcome for adults would be no tax increases relating to the budget deficit.
However, for the students, the effects would have a significant impact on every student in the district. SDNB would continue reducing spending which would result in delays for maintenance and infrastructure projects, lower quality staffing, reduced programs and extracurriculars, and the possibility of school consolidations and closures, and the possibility of students needing to change the school that they are attending.
10th grader Dominic Kavalary talked about how he felt it was necessary that SDNB protects and keep all existing programs and activities because the district emphasizes college and career readiness so much. Kavalary went on to talk about how he felt that if the programs were gone that the opportunities that were created for him as a result of the current programs and activities offered in the district would decrease.
Out of those impacts, one that is often overlooked is the delays for maintenance and infrastructure projects. There is currently a backlog of projects that all cost money and new projects are constantly being added. In just the past couple of months, a wall that was built at Eisenhower was found to be built wrong and has been labeled structurally unstable.
The district superintendent stated that the reconstruction of the wall would cost $1.2 million. "They already had two years of zero budget for facilities maintenance," states Szeflinski, "The longer they do that the more it is going to cost to fix those buildings when emergencies happen."
Szeflinski went on to say that using the fund balance or "rainy day savings account" is an unsustainable option. She talked about how the district can realistically use the fund balance for 1-2 years before it is fully depleted. At which point borrowing money would decrease the district's credit rating.
If the school district's credit rating is bad then the city's credit rating falls as well. What this would mean is that when the city would then borrow money to fund projects, like the upkeep of roads, it would cost more money. This would lead to the city having to increase taxes to make up for the bad credit. Szeflinski says that in the long run, it would cost less to vote yes for the referendum which is a reason for retirees on a fixed income to vote yes.
Some people that are going to be voting no have brought up that they don't feel that the board has chosen the right decisions when it comes to the board spending money and therefore aren't convinced that the school board would spend the new money in the right way.
"I think the school district is going [to] have to start looking at making cuts where it hurts the most and I think that [it] is something the board should have done years ago, but I am hoping that with a no vote that they will shoot themselves into a kind of realization," said former School Board and Alderman candidate, Dmitry Becker.
What the school consolidation would mean is that all high school students would go to New Berlin West as it would become the sole high school for New Berlin. Another big change would be that all middle schoolers would go to New Berlin Eisenhower as it would become the sole middle school for New Berlin. Also, all 6th graders would be moved from elementary schools to  Eisenhower as it would be the new middle school.
"There will definitely be an impact on the students, and the teachers who will lose jobs. Bigger class sizes, bigger schools, less learning," states Szeflinski.
On the elementary school level, Orchard Lane could possibly close which would result in redistricting all of the school lines. It would also mean all Orchard Lane students would be moved to the other elementary schools. However, one of the most disruptive changes would be that there would be considerably larger class sizes.
Even though many have strong opinions swaying to one side there are people who are considering all options and undecided. "Part of the reason I want to vote [yes] for the referendum [is] because there has not been a referendum in well over a decade, and I feel our taxes have also not gone up, so it is only appropriate that the school system should receive more money, and that is why I would vote yes. At the same time, I would vote no, because I have attended several school board meetings, and I have asked many questions of the school board, which have gone more to the school district administration, and I am not 100% compatible with how all of our finances have been spent," stated undecided Eisenhower parent, Kimberly Sherwood.
To predict if the referendum will pass or not we have to look at recent trends in referendum outcomes around the state. According to the Journal Sentinel, 77 out of 82 referendums passed during the 2018 midterms. Out of those 77, 23 of the passed referendums were in Southeast Wisconsin with a total of $556 million directed to schools via referendums just for Southeast Wisconsin.
Closer to home, the School District of Wauwatosa's referendum that asked for a total increase of $125 million was successful. That is five times the $25 million SDNB is asking for.
In 2018, $2 billion was directed to schools via referendums with an average passing rate of 90%. This is the highest passing rate for referendums in Wisconsin since 1991. In other words, the last time this many referendums passed, the world's first website was created.
Becker explains how thinks it's interesting that there will no incumbents on the ballot for the first time in 6 or 7 years. What this means is that the School Board members whose terms are ending will not be on the April 2nd ballot.
Szeflinski encouraged students that are 18 years old to go and vote on April 2nd since this impacts them, their families, and their community.
At the end of the day, SDNB is in a lot of debt and there are many ways to solve this issue but it is now up to the voters to see how they want this issue to be solved. Despite the best efforts of the superintendent and the school board to advertise the situation, it is not well known, so you should talk to friends and family about the issue and how you believe it should be solved.
If you have questions, it should be known that SDNB staff members were briefed to explain the situation if asked but not to give their opinion on SDNB property or during working hours, but additional information is available on the SDNB website.