Bummed that summer is over? Here is what you can do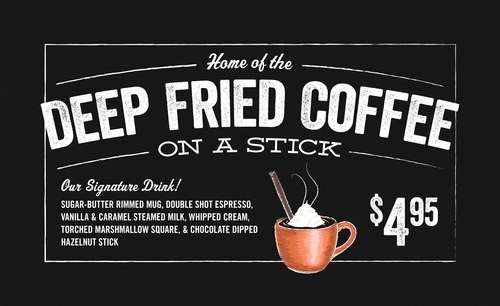 Those long summer nights and bright, sunny summer days are gone. Days are getting shorter and colder. You can feel that winter is on its way. Although many take the end of the summer as a tragic event, there are so many things you can enjoy now that you couldn't in the summer!
For you coffee fanatics…
Quit letting your dollar bills fly out of your pocket just so you can buy a "pumpkin spiced latte" from Starbucks. Fall is the perfect time to taste some festive coffee drinks, but you don't have to do it by dropping almost $10.
Coffee Works is a great place to start! It is a small coffee shop right down Greenfield Avenue in West Allis. All their drinks are well under $5 and they serve a spiced apple cider for the autumn season as well as a "deep fried coffee on a stick", which is basically just coffee with a hot chocolate twist. If you are feeling daring, let your taste buds indulge in this sweet steamed milk and espresso creation.
Link: http://drinkcoffeeworks.com
I am sure you have heard of Alterra. What you might not know is that "Alterra" sold their name to the Mars Corporation, therefore changing the name to "Colectivo". Colectivo has a few different locations around Downtown Milwaukee, Shorewood, and Wauwatosa. Lower priced drinks, more variety, and an urban style are just a few reasons to why Colectivo is a great coffee shop to adventure to. To meet your autumn cravings, Colectivo has almond syrup that most coffee shops do not. It is great in lattes and cappuccinos!
Link: http://colectivocoffee.com
Another great coffee destination is Stone Creek Coffee. Reasonably priced and unique, Stone Creek Coffee is greatly known for its original coffees brewed fresh every day, with the "Cinnamon Spice" as the special for this season. Some specialty drinks are the Boston, Mexican Spice, and Caramella Lattes.
Link: https://www.stonecreekcoffee.com
Staying active this fall…
Autumn activities aren't all about the sugar filled coffee drinks, and the weather getting colder is no excuse to not stay active.
Yoga @ the Museum is a year round event but is a great way to stay active. The next class is Saturday November 8th at 8:15 AM and is entirely free, but has an optional $15 donation that admits you into the museum for the day. The yoga class takes place in the Milwaukee Art Museum's lobby and lasts for about an hour and a half. Professional instructors direct the class and create a serene environment for you to relax and think "Namaste" for the rest of your day.
Link: http://mam.org/calendar/events/yoga.php
The Color Vibe 5k run is back in Milwaukee on October 18th at Veterans Park. It is $40 to register online per person and $50 to sign up in person. However, signing up a team of six people or more drops the price to $35 per person. The run's charity partner is Feeding America. Canned food donations will be accepted and widely encouraged, as you will receive a ticket for every food donated that will be put into a raffle to win Vibe Run apparel. The race is a 5k (roughly 3 miles) and is not entirely competitive—most run it for fun and at their own pace! Throughout the race there are four "color zones" to get you to the end where there is a dance party and color throw!
Link: http://www.thecolorvibe.com/milwaukee.php
All around entertaining things to do…
Farmers markets and Halloween movies are the most exciting parts of the autumn season by far! If apple picking, pumpkin carving, and cheap scary movies are exciting to you, you'll like these.
Elegant Farmer is a farm, market, and bakery all in one. It is only a short drive away on Main Street in Mukwonago and has a corn maze, hay rides, a variety of pumpkins to choose, apple picking, and bakery goods!
Link: http://www.elegantfarmer.com
The Ridge Cinema in New Berlin has many different events during the Halloween season on top of the very popular "$5 Tuesdays". Some seasonal promotions include "midnight madness" which allows you to watch movies for cheaper prices at midnight or later. The "Harry Potter Moviethon" is also this month, showing all eight Harry Potter movies. Lastly, the "Flick-or-Treat" Halloween film series this month every Friday, Saturday, and Sunday at 10 AM with $2 admission. Films include: Monster House, Casper, Wallace & Gromit: Curse of the Wererabbit, and Hotel Transylvania.
Links:
http://marcustheatres.com/Theatre/TheatreDetail/132/ (home page)
http://marcustheatres.com/Promotion/PromotionDetail/124/ (Flick or Treat)
http://marcustheatres.com/Promotion/PromotionDetail/50/ (Harry Potter)
http://marcustheatres.com/Promotion/PromotionDetail/109/ (midnight madness)
The scary side of the autumn season…
Haunted houses are already up and running, and here are some of the scariest ones in the area.
Voted the #1 haunted house in the Milwaukee area, the Mars Haunted House is for only the bravest people. Adult admission is only $13 and it's open Friday nights to Sunday nights. The story tells that the apartment where the Mar's House is located used to be home to the Milton family in the late 1800's. The Father was a drunk who came home one night after losing his job and threatened his family with a loaded shotgun. After accidentally discharging the gun at one of his children, he decided to kill all of them, followed by himself. People to this day still claim it is haunted—do you believe it?
Link: http://marshauntedhouse.com/MarsHauntedHouse/index.asp
The Hills Have Eyes has five sections to its haunted woods trail, starting with a bag over your head so you can't see the haunts awaiting you and ending with a haunted ski lift that takes you to a haunted carnival crawling with clowns. It runs Thursday nights to Sunday nights and costs about $25 per person. It's located on Crystal Ridge Drive in Franklin.
Link: http://mke.hillhaseyes.com
Hauntfest located in Hales Corners runs through October and November and is only $18 for one "haunt" and $25 for two. It's also indoor, so weather is never a problem! Hauntfest is one huge haunted house event with activities like riding the "possessed" pumpkin for kids, which is similar to a bull ride, or taking a trip on the "Last Ride" in a coffin. See how long you can last!
Link: http://www.hauntfest.com
Leave a Comment