The Best Way to Attend a Brewers Game as a Student:
Get Up! Get Outta Here and GONE!!!
The price for a seat at American Family Field to watch the Milwaukee Brewers baseball game ranges from $17-$135, without tax. A $17 ticket puts you as far away from the action as possible in the back row of the 4th level where you can touch the walls of the stadium. On the flip side, a $135 ticket places you directly behind home plate where the action is right up in your face. As a high school or college student with minimal money, spending $17 to get the worst seat in the building is a waste, but spending $135 for one game is unreasonable. Third-party ticket sellers such as StubHub, SeatGeek, Ticketmaster, and many others might have cheaper prices. However, these are not the only options. A ticket on the first level with a good view of the game can be anywhere between $28 and $78. The $28 ticket will be close to the foul pole while the $78 ticket is right behind the dugout. Additionally, there is a parking fee ranging from $13-$40 on a weekday.
If you are a high school or college student wishing to attend a Brewers game on a weekday, the Brewers offer a $9 Student Special for all Monday-Friday home games presented by UW Credit Union. For $9, you can choose anywhere you want to sit in one of the following sections: Loge Outfield, Field Bleachers, Loge Bleachers, Terrace Box, Terrace Reserved, and Standing Room Only. Additional abilities include attending unlimited games each month, booking additional seats for guests, and holding up to 3 ticket reservations at a time. Mrs. Viste, a high school mathematics teacher at NBW, is an usher for the Brewers. She said, "They are trying to encourage more young people to get interested in baseball and support the Brewers.  These tickets are normally $27 or more on loge and $18 or more on terrace, so $9 is a good deal."
To obtain the $9 Student Special, you need to sign up for a Student Pass Subscription at https://www.mlb.com/brewers/tickets/specials/students. Signing up is free and you can sign up at any time. There is no monthly or yearly fee, which makes this subscription all the better. You will also need to download the MLB Ballpark App to access your tickets. 
If you are hungry, take advantage of the new 4-1-4 deal this year, with junior hotdogs, junior nachos, 16-ounce sodas, and Cracker Jack's each $4 this year. The Brewers also reduced the price of the following concession items by up to 15%: 16-ounce domestic beer, craft cocktails, kettle corn, popcorn, peanuts, cotton candy, root beer float, licorice, and other candies, Minute Maid frozen cup, and custard in a helmet.
Instead of driving to the stadium and paying a parking fee, there are many local restaurants that offer shuttles to and from the stadium. The shuttle services are listed in the following graphic.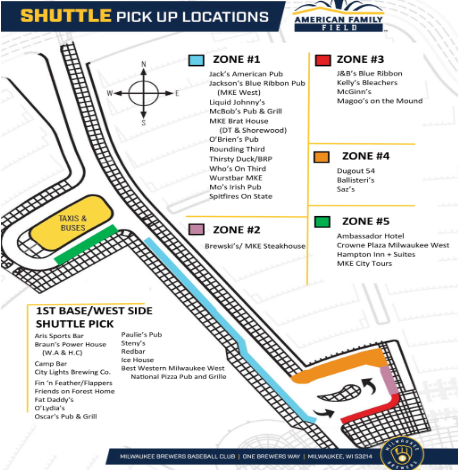 Don't want to take a shuttle to the stadium? The Hank Aaron State Trail provides easy access to the stadium whether you are on foot, roller skates, or bicycle. Enter the New Berlin Recreation Trail at Buena Park or Gatewood Park and head toward the Greenfield Park Golf Course. Take the Oak Leaf Trail to Hank Aaron State Trail and make your way to Helfaer Field where there will be bike racks. Walk to the stadium and enjoy the game. For further biking instructions, enter one of the parks mentioned above into google maps, put your destination as Helfaer Field and make sure to choose the route that goes through Greenfield Park.
Take advantage of the $9 student special for affordable tickets that do not require skeptical third-party ticket sellers and eat some discounted concession items from the new 414 menu. Go Brewers!