Thanksgiving Recipe: Baked Cheese Vegetable Twist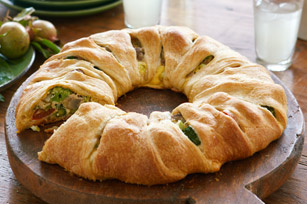 Baked Cheese Vegetable Twist
Besides the turkey, the delicious side dishes are what completes the feast, and this recipe is great for those who are in need of a last minute dish to set on the table. This new take on broccoli casserole, includes cream cheese, veggies, and a delicate crescent roll crust, and has potential to leave a great impression on your family and friends. The process is quite simple, timeless and offers a rich taste of baked cheese with vegetables.
Ingredients
2 eggs
4 oz.  (1/2 of 8-oz. pkg.) PHILADELPHIA Cream Cheese, softened
½ cup KRAFT 2% Milk Shredded Italian* Three Cheese Blend
3 cups frozen broccoli cuts, thawed, drained
½ lb. fresh mushrooms, cut into quarters
½ cup cherry tomatoes, cut in half
4 green onions, sliced
2 cans (8 oz. each) refrigerated crescent dinner rolls
MAKE IT
HEAT oven to 375ºF.
MIX first 3 ingredients in large bowl until well blended. Stir in next 4 ingredients.
UNROLL dough; separate into 16 triangles. Arrange in 11-inch circle on foil-covered baking sheet, with short sides of triangles overlapping in center and points of triangles toward outside. (There should be a 5-inch diameter opening in center of circle.) Spoon cheese mixture onto dough near center of circle. Bring outside points of triangles up over filling, then tuck under dough in center of ring to cover filling.
BAKE 35 to 40 min. or until crust is golden brown and filling is heated through.
Leave a Comment