A church. A synagogue. A mosque. A shrine. Perhaps nowhere in particular, perhaps nowhere at all. Religion, practiced across the globe in a staggering amount of different ways, is a key element of diversity within any community of people.
Despite its Constitution's First Amendment encouraging American citizens to practice any religion they choose, the United States ranks 68th on the Pew Research Center's list of 232 religiously diverse countries and territories across the globe.
Religious diversity can be a meaningful aspect of any environment, including high school. The purpose of this article is to explore the diversity that exists not only within New Berlin West, but also in the community that surrounds it. In trying to learn all we can about people's unique backgrounds, we are one step closer to understanding our own motivations, values, beliefs–essentially, what makes us human.
For the purpose of this piece, officials from three local religious institutions were interviewed, along with members of the New Berlin West community. Additionally, 213 high school students at West were surveyed on the topic of religion in their lives.
Judaism
Shalom aleichem.
"It brings beauty to our lives, to learn more about other people's backgrounds and religions and ethnicities…" shared Deborah Martin. "[We can] gain so much."
Martin is the Spiritual Leader at Congregation Emanu-El, a Jewish synagogue in Waukesha consisting of roughly 85 family units in the Milwaukee area. The synagogue stays true to the Jewish emphasis on action from belief, as it actively serves its community in a variety of different ways. These services include a weekly religious education program for youth in the congregation and a Temple Book Club, as well as interfaith community events.
Judaism is one of the oldest religions in the world, having been formed around 2000 BCE in Canaan, or modern-day Israel and Palestine. According to jewishdatabank.org and similar sources, the global Jewish population was estimated in 2015 to be around 14 million–less than one percent of earth's population. Yet, Judaism remains one of the most popular religions in the world, earning a place as one of the "big three" monotheistic religions across the globe.
Monotheism, the belief in only one God, is a crucial element of Judaism. Among many religious communities, the Jews are regarded as the first followers of God, the people to whom God first appeared. The sacred traditions of Judaism are mainly outlined in the Torah, a holy book composed of the first five books of the Hebrew Bible. Among Jews, the Torah is believed to be God's word, much like the Bible for Christians and the Quran for Muslims. The Torah dictates key principles of Jewish belief: worship of one true God; faith in the word of the prophets, specifically Moses; and service to others in God's name, to name a few.
Jewish worship ceremonies and celebrations can be led by a rabbi or cantor and often include readings from the Torah in Hebrew. Such readings may also be sung by a cantor, a musician who can read Hebrew and has been specially taught to recite the Torah in song. In addition to acting as Spiritual Leader at Emanu-El, Martin is also a certified cantor.
Martin works with BEGIN, Brookfield Elm Grove Interfaith Network, a group of religious leaders in the area that meets almost monthly and works to promote awareness and acceptance of all faiths. Congregation Emanu-El is involved with a number of other congregations in the Milwaukee area that allow their members to visit other religious centers and learn about their unique beliefs. Upon inquiry, Martin was glad to provide insight on the importance of broadening one's perspective, specifically that of religion.
However, not everyone shares Martin's appreciation for diversity. Earlier this year, there were upwards of 100 bomb threats to Jewish Community Centers (JCC) across the country, according to CNN. In many cases, JCCs felt the need to evacuate and close for a period of time before resuming service. Wisconsin did not go unaffected during this period of threat, as the JCC in Whitefish Bay was forced to close three times in February and March due to bomb threats. The Whitefish Bay Center provides a number of services in the Milwaukee area, including various programs for children.
In the wake of such threats, Martin believes that it's crucial to remind people of the similarities between Judaism and other religions, in the hope of bringing about unity between different groups.
"Let's be talking about our common ground, what we both believe in," Martin said. According to Martin, the key to understanding and accepting others' religious beliefs is being able to say, "I may not believe that, but I respect you for believing [it]."
Understanding religious diversity is sometimes a struggle in the U.S., seeing as the majority of the country is of Christian faith. This fact holds true on a smaller scale at New Berlin West. Out of 213 high school students surveyed, just 3 students, 1.4 percent, indicated that they identify with the Jewish faith.
One of these students is junior Abbigail Rothschild, who said that although she does not find a personal connection to the faith, she still practices with her family. Rothschild shared that it can be difficult to keep up with some parts of her religion when certain accommodations are not made. Rothschild offered the example of winter break often failing to coincide with Hanukkah, which falls on a different set of eight days each year.
Rothschild also pointed out that because the majority of people practice one religion, there is sometimes not much room for conversation between people of different beliefs. Martin suggested that education and collaboration are key factors in understanding others' diverse backgrounds, both of which require some form of communication between different groups; however, not all high school students are comfortable talking about their religious beliefs with their peers.
"When people don't entirely understand something, like another's religion, they are quick to judge or poke fun at it," stated Rothschild, "so that may be [a] reason people aren't as open about their spiritual beliefs."
Although it is sometimes a tough topic to speak on, it was through others' openness about their religious beliefs that this project could be completed. Martin was enthusiastic about sharing her faith and appreciative of having been a part of this piece. She strongly encouraged people to branch out and meet religious diversity with an open mind.
"I think there's great richness in having diversity in a community, if you're open to it," said Martin.
Islam
As-salaam-alaikum.
At the House of Wisdom (Dar-ul-Hikmah), a Shia Muslim community center in Greenfield, programs and events are overseen by Imam Sameer Ali, who also serves as the center's Director of Religious Life. The House of Wisdom has about 250 members who come from a number of different ethnic backgrounds, according to Ali.
The House of Wisdom participates in a number of different service activities around the Milwaukee area, such as giving gifts at Christmastime, holding blood drives, and volunteering at St. Ben's community meal program in downtown Milwaukee, as well as ministering to its own members through religious education for children and prayer services.
Islam originated in the Arabian peninsula and is the second most popular of the "big three" monotheistic religions, with around 1.5 billion followers worldwide, according to Patheos' Religion Library and similar sources. This accounts for about 24 percent of the world's population. Like Judaism and Christianity, Islam also focuses on the belief in one God, along with prophets to whom God passed the holy word. Muslims believe that Allah, their God, revealed the way of holy life to the prophet Muhammad and gave him the Quran.
In the foundation of Islam lies its five pillars: faith, prayer, charity, fasting, and pilgrimage to Mecca, the holy land. Muslims put these principles into practice by ritually praying five times a day, fasting during the month of Ramadan, giving generously to the poor, etcetera. Islamic gatherings are held in mosques and community centers, where Muslims pray and interpret scripture together. Sometimes prayers are led by an imam, like Ali. Muslims are known for their dedication to their faith, as they spend time throughout their day in prayer, incorporating the teachings of Muhammad into their daily routine.
Some Muslim women choose to cover their hair with a headscarf, or hijab; some men do the same with a turban. NBW teacher Douea Ibraheem explained that some people misinterpret her purpose for wearing the hijab, asking if she is forced to do so. Rather, Ibraheem said that she wears her headscarf because it helps her experience a strong sense of inner peace and connection to her faith.
Despite the fact that the doctrine of Islam is focused around honesty, self-respect, and peaceful following of Allah, many have a fearful impression of the religion due to terrorist attacks that have racked the globe in past years. Ali agrees that portrayal of Muslims in the media might affect people's mindset in a negative way.
"In general, [media portrayal of Muslims] has been inaccurate…in movies and such, a particular image of Muslims is portrayed," said Ali, "but I think the positive is that our neighbors, our friends, people we work with, are now more aware of what Islam and Muslims are all about, and people are actually interested and curious in learning about what Muslims actually believe in."
Ali feels that although there is a negative light cast on Islam at the moment, there are "a lot of positive [things] happening these days," and his community is trying to make the best of it.
Another political element for Muslims across the country to consider going forward is President Donald Trump's recently signed Executive Order 13769. The order, titled "Protecting the Nation from Foreign Terrorist Entry into the United States," prohibits the entry of any persons coming from six Muslim-majority nations for at least 90 days excepting diplomatic visa holders, suspends the U.S. Refugee Admissions Program for at least 120 days except in special cases, prohibits the entry of Syrian refugees permanently, and reduces the 2017 number of new refugees allowed to 50,000, among other similar regulations.
The order was signed by the president on January 27. Four days later, another press release clarified that dual citizens of a restricted and non-restricted country would be permitted to reenter the U.S. after traveling, given they hold a U.S. visa and a valid non-restricted passport.
Although the order is currently blocked by court rulings in multiple states and is therefore not in effect, it has still been a source of worry among the Muslim community in the U.S.
"I think in general, right now there is [an]…anxiety about traveling," Ali stated, indicating that there has been some confusion and apprehension among House of Wisdom members. "A lot of people travel internationally to see their families and friends, just like any other regular family, and they're not sure if they're able to come back, so…there is some anticipation of what's going to come next."
In light of the political division that is present in our country, Abid Jeevraj, a member of the House of Wisdom, pointed out that it seems education is more important than ever in preventing further prejudice and anger between religious groups in America.
"As hard as the situation is, we are taking advantage of it in trying to teach others," shared Jeevraj. "So, every time something [negative] happens, we try to teach others. That's the best thing we can do."
In a school environment, the situation may not be much different. Ibraheem shared that although her experience teaching has been mostly positive, there have been a few selected instances of closed-mindedness. For example, Ibraheem recalled an incident in which a note was left on her desk by a student, which contained "something about ISIS."
"I understand that [there is an education gap], but also, these same people never come and ask," said Ibraheem, "…whatever they're hearing from the media is their only resource, so we cannot blame them [for] what they're thinking."
At West, 3 out of 213 high school students surveyed, 1.4 percent, indicated that they identify with Islam.
"There [are] very, very few differences between mostly Christian religions and Muslim religions," added Jeevraj. "The differences are so small…But we spend so much time looking at the differences which are not really there."
In conversation, Ali, Jeevraj, and other members of the House of Wisdom readily expressed their gratitude and appreciation for having been included in this piece, commenting on how important it is to educate people about what don't understand and, consequently, fear.
"Because of all the anxiety, people are asking questions, and because [of this], they're actually getting to learn," said Jeevraj, "so the biggest problem is the lack of knowledge…People are afraid because they don't know."
"The opportunity here again is for us to teach others in our actions," added Jeevraj.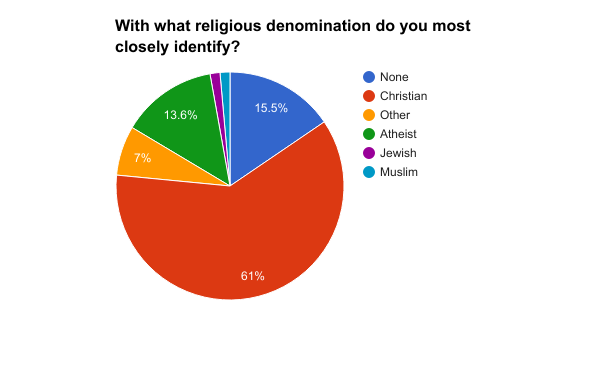 Christianity
Peace be with you.
Christianity is not only the most popular of the "big three" monotheistic religions, but also the most popular religion in the world, with just over 2 billion followers according to NPR and similar sources. Christianity originally formed from Judaism, but today it has hundreds of branches, the most prevalent being Roman Catholicism, Eastern Orthodoxy, and Protestantism.
Similar to Judaism and Islam, the most important principle of Christianity is faith in one true God. However, what sets Christianity apart is in its name: Christ. While followers of Judaism and Islam believe in Jesus solely as a prophet, Christians believe Jesus Christ to be the son of God. Christians also differ from their religious counterparts in that they believe in the Holy Trinity, God in three persons: Father, Son, and Holy Spirit.
Many Christian faiths put a high emphasis on attending a religious service once a week, during which people pray, sing, and hear scriptures read from the Bible, which consists of numerous different sections, all focused around holy teachings and wisdom from God. The Eucharist, consumption of blessed bread and wine to represent the meal Jesus shared at the Last Supper,  may be celebrated during services as well. Christian services are typically held on Sundays and are led by a pastor or priest. Christians are often known for their focus on faith, fellowship, and outreach.
The largest of all Christian denominations is Catholicism, which differs from the rest of Christianity in that Catholics believe that the bread and wine are fully transformed into the body and blood of Christ during the celebration of the Eucharist.
NBW junior Teresa Sundararajan, who attends Holy Apostles Catholic Church in New Berlin, said that she enjoys being Catholic because "it helps guide [her] through life and to feel secure in this world."
Additionally, Sundararajan also explained that people should strive to stop making assumptions about people with certain religious beliefs based on what they see on social media, because there may be discrepancies between a religion's media portrayal and the "true facts."
Similarly, Susan Switalski, the Pastoral Minister at St Elizabeth Ann Seton Catholic Parish in New Berlin, believes that it can be "fruitful" to explore the similarities between different faith traditions, so we can "build a peace-filled world through understanding and support."
"I believe so strongly that it is important to recognize ways that we are similar with not only our brothers and sisters in Christ, but to find connections to others beyond Christian faiths as well," commented Switalski.
"I think it's important to recognize that all religions are important," added Sundararajan, "and they can coexist with one another."
At West, 130 out of 213 students surveyed, 61 percent, said that they identify with a Christian faith. As Rothschild commented, having a large majority of students practicing one faith can sometimes impair conversation between students of diverse backgrounds.
Sundararajan offered, "I think people feel uncomfortable [expressing religious beliefs] because they're afraid of offending someone or because they're ashamed of what people will think of them." As Martin, Switalski, and others have expressed, it seems as though one effective remedy for this is simply being open to new perspectives.
"Religious diversity, actually, any diversity, has the potential of allowing each individual growth in their own understandings and beliefs," shared Switalski. "Dialogue with individuals who hold different beliefs allows for the building of a richness of culture."
Conclusion
56.3 percent of high school students surveyed at West indicated that they do not consider religion to be a major part of their life. Similarly, 21.6 percent said that they never practiced any religion and 31.5 percent said that they never attend a religious service of any sort. But, religious or not, some students who chose to comment on a free-response section of the survey mentioned that people should be making an effort to respect all diverse beliefs present in our community.
"…As suburban as New Berlin is, we feel as though our personal religion is the only way of life and [that] it is the truth," commented one anonymous student on the survey. "Instead, I feel that if we were more open and [genuinely] curious about others' religions, talking about religion and sharing our values and beliefs would not be such an uncomfortable topic."
Another anonymous student felt that "There needs to be administrative action [at West] to protect all student's religious beliefs," because students of certain religious beliefs may be given a "bad reputation" at school.
61 percent of students surveyed reported that they try not to talk about their religion in school unless directly asked. Additionally, only 50.7 percent, about half, of students surveyed said that they felt they are able to openly talk about their religion in school.
"I feel like a lot of people don't express their beliefs because they don't want to seem 'uncool' or judged for their beliefs," said one anonymous student. "Therefore a lot of people avoid talking about it unless directly asked. Also, there is heavy tension towards a certain religion lately due to ignorance that is spread every day…so people of that religion are afraid to identify [with it]."
Perhaps the most important concept to focus on is openness to others' unique beliefs: the idea that there is no right way to practice or not practice religion. As stated by another anonymous student, "You can be [nonreligious] or religious and all that matters is whether you're a good person or not."
With all that is occurring in our community, country, and world, words like "terrorism," "shooting," "battle," and "bombing," are fresh in our minds. Seldom recognized is the fact that we seem to be more similar than we are different.
"We spend so much time looking at the differences which are not really there," said Jeevraj.
"Let's be talking about our common ground," urged Martin.
"All religions are important," stated Sundararajan.
"All that matters is whether you're a good person or not," said an anonymous West student.
Although the people credited in each section of this piece are of different backgrounds and religious beliefs, there emerges a series of statements that read almost like one continuous dialogue. So, going forward, perhaps there are more important words than "violence" and "discrimination" to focus on–words that most people have heard before. Shalom. Salaam. Peace.