Elementary School Nostalgia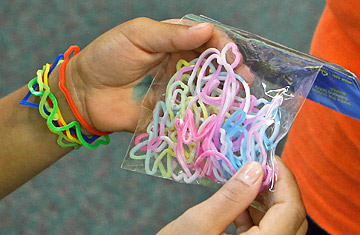 There are several collectables that aren't as popular today as they used to be. These inventions were on popular demand following its release into stores but became less seen once new inventions came out. These souvenirs range from Silly Bandz to Rainbow Loom.
Rob Croak released his invention of a silicone rubber bands stylized in various colors and shapes known as Silly Bandz, in 2008. According to an article on BusinessFinder.com, Croak thought the design would appeal to buyers due to the habit of needing to fidget. In school, students could be found trading these accessories amongst one another in the classroom.
Madeline Soiney, student at NBW,  was asked which invention she remembered the most from the time she was in elementary school, to which her answer was Silly Bandz. Soiney explained that she remembers it the most because was involved in this particular trend which consisted of buying and trading the bracelets.
Later, when asked about the impact the Silly Bandz had on her, Soiney said, "Silly Bandz impacted me by allowing me to expand my boundaries a little bit, as it gave me reason to interact with some of the other kids in my grade that I didn't talk to much before that."
The sale of colored duct tape lead to a popular usage amongst youth. Duct tape was used to make various accessories like bows to attach onto hair ribbons, bracelets, and even a decorative flower top for pens demonstrated on many YouTube channels. Today, it's still a fun idea for an arts and crafts project.
Similar to the duct tape accessories, friendship bracelets made from plastic lanyards in Girl Scouts aren't as commonly seen nowadays. These accessories require nimble fingers, a lot of patience, and focus to perfect their complex knots.
In 2011, small animal figurines made from rubber known as Squinkies were released into store. These little creatures came in various species and colors. Their little gap on the bottom of the toy made the Squinkie able to fit onto the back of a pencil. While still popular, this invention still deserves recognition.
That same year, another invention came into the stores. In a small kit, a plastic pegboard laid with its match crochet hook and hundreds of colored bands. Rainbow Loom was a craze for its accessories which ranged from a bracelet to a necklace.The invention is known for its complex designs like the fishtail, criss-cross, double-starburst, and many more. These items were also traded, and sometimes, even sold.
Leah Perrault was asked what toy she remembers the most from her years in elementary school. Perrault answered that she remembers an item she called a stress ball.
"We made balloons filled with flower and sold them," she explained. "My friend Emily and I made them together and made a few bucks doing it. The teachers weren't too happy to have them so it was kind of a black market thing."
Meanwhile, when Irena Udovcic was asked the same question, she answered, saying she remembers origami the most from her time in elementary school. Udovcic explained how origami paper gave children in elementary school another way to create art.
In all, the impact of these inventions are what leave a legacy of nostalgia among those who used them.