A New War is Frying Up, and No Sandwich is Left Behind
There is a war brewing in New Berlin. It has no boundaries. Friends are against friends; enemies may unite to destroy a greater evil, it is one of the most polarizing and dividing wars ever. But this isn't your average battle, it's a war of pickles, it's a war of sauce, it's a war over a fried bird. It's the war of chicken sandwiches. There are many sides to this war; from Chick-Fil-A to Wendy's to even Taco Bell participating in the action. In the end, who will win?
To make this tasting as impartial as possible, we got together six New Berlin West students and used their ratings to determine the winners of this war. The judges were Sierra Fuller, Allison Lovrine, Mitchell Anderson, Elijah Jandrisevits, and us. We first took our fierce competitors to the polls, asking in total 186 New Berlin West students what they thought the best chicken sandwich would be. The results were astounding and made it very clear that Chick-fil-A, with 60% of the votes, was the easy favorite with the next competitor, Popeyes, not even coming close to them with 15% of the votes. McDonald's and Culvers were the middle ground, leaving Taco Bell in dead last with one vote, which calculated to less than one percent of the total votes.
In our small test group of five New Berlin West students, we conducted a blind taste test. Participants were given a survey to report their thoughts and ratings of each chicken sandwich. In the survey, the participants were asked to describe and rate, from one to ten, four different qualities of a quality chicken sandwich. The categories were how appetizing the sandwich looked, the pleasantness of the texture, the taste of the chicken, and the overall taste of the sandwich. These numbers were combined to define the restaurant's final score. Participants also guessed which sandwich was from which restaurant. 
McDonald's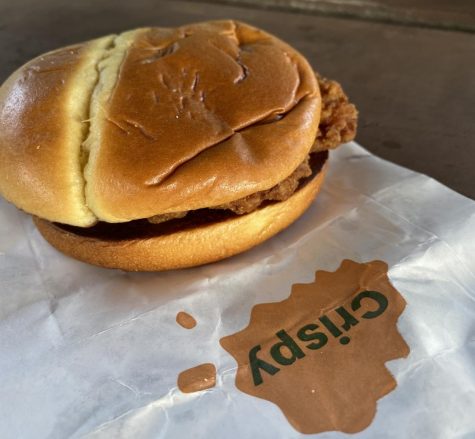 We started our experiment off with the McDonald's Crispy Chicken Sandwich. Its looks were described as "just fine" and "very flat" as if it was squished. Its looks scored a 4/10. When rating the sandwich's texture, participants described it as "very dry, stale and dense," scoring it, on average, a 2/10. Next, participants further investigated the chicken itself describing it as "bland" and "just meh." The average score of this sandwich turned out to be 3/10. Lastly, participants went on to describe the overall taste of the sandwich. The final consensus was that the sandwich was "just stale" giving the sandwich's taste a 2/10. All participants guessed the restaurant correctly. The final score added up to be a 12 overall.
Taco Bell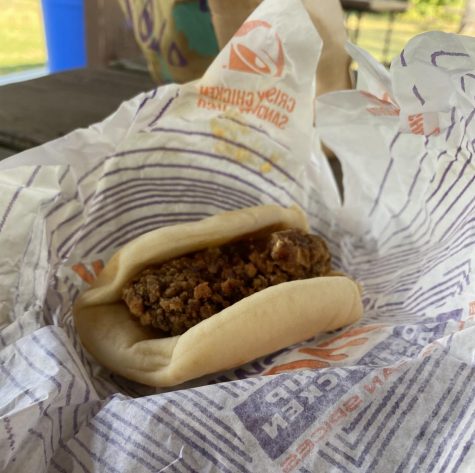 The next sandwich-up was from Taco Bell. This sandwich is called the Chicken Sandwich Taco on the Taco Bell menu. The looks were described as looking "extremely dry and gross" and "kind of underwhelming." Others described it as looking "like a pancake." This sandwich's looks scored it a 3/10 on average. The overall taste was not too well perceived, described as "a bit burnt and needing sauce." One participant claimed, "Your lack of sauce disappoints me." In this category, the sandwich was voted on average 4/10. The texture was described as dry across the board, earning a 3/10. The chicken was described as "just ok" and "too crispy." The chicken scored an average of 3/10. All participants matched this sandwich to its restaurant correctly. With this, Taco Bell earned a final score of 13.
Culvers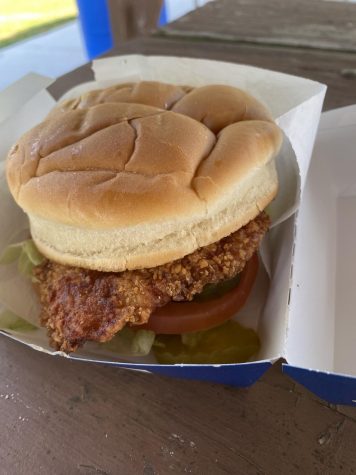 Next up was the Culvers Crispy Chicken Sandwich. Its looks were described by some as looking "delicious," but others stated that it "looks messy, lettuce is shredded and the pickle slices are tiny." Although the group was split, most participants enjoyed the look of the sandwich earning it an 8/10. To some, the texture was "too soft. The bun is too soft," but to others, it was "crispy and soft." This is the category that was the most split for Culvers. The texture score averaged out to be 6/10. The taste of the chicken was described as "bland," but also "good like a chicken nugget." This category received an 8/10 with most participants enjoying it. Finally, some described the overall flavor as "a good mix of flavors" while others stated the "taste is okay, but the chicken is not as prominent. There is also a little too much tomato taste." Still splitting the group, its overall flavor score turned out to be a 7/10. Most participants predicted the restaurant correctly. With all of this, Culvers scored a 29 for its final score.
Chick-Fil-A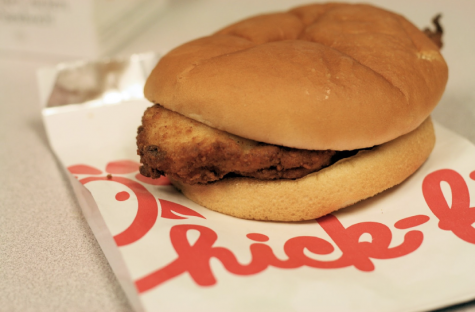 The group moved on to the next restaurant, Chick-Fil-A. Since there are multiple types of chicken sandwiches at Chick-Fil-A, we kept it as consistent with the other restaurants as possible and got the Crispy Chicken Sandwich. The looks were described as "fine" but also described as looking "delicious." The score for looks turned out to be a solid 8/10. Some described the texture as "dry" but others found it "pretty good because the pickles add variety to help make it a good texture." This score was a 7/10. The chicken itself was described as "not as crispy as I would like it to be, but it was moist and a good texture for chicken." The texture's score was another 7/10. One participant claimed, "this is the best chicken I've tried out of all of these sandwiches, but definitely not the best sandwich." We did the majority of our research on a Sunday, so we did the Chick Fil A taste test at a separate time than the rest of the restaurants. Because of this, participants did not get to guess which restaurant it was from. The final score for overall flavor added up to be a 29.
Wendy's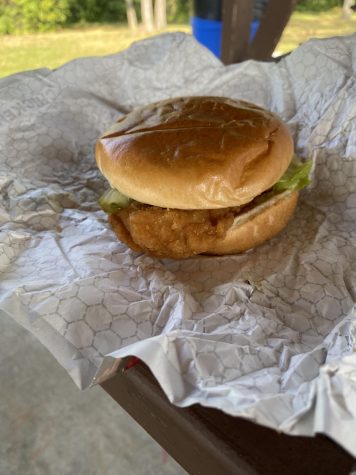 Wendy's came in as a dark horse candidate, this restaurant was a last-minute addition to the roster and surprisingly succeeded in almost every category. The sandwich looked beautiful overall with one reviewer describing it as "pleasing to the eye" and another saying how it "looked straight out of a textbook" scoring it a 7/10 for looks. However, the flavor was where the reviews differed. While some proclaimed how they "want more" and how it was "very juicy with a nice combined taste of all the contents," others thought that the sandwich's sauce was "too watery and drippy." The positives strongly outweighed the negatives on this sandwich though as it led all sandwiches in taste with a score of 8/10. The texture also had mixed reviews, while the majority talked about how the sandwich had a "spongy soft texture" and how it was "squishy and crunchy," a different reviewer called it "a bit dry, but good." The texture was good overall though as it won an 8/10, but Wendy's wasn't all sunshine and rainbows. The sandwich lacked the taste of chicken several times, falling short on multiple occasions and to reviewers. Some called it "lackluster taste" and "a little fatty" but a different reviewer called the chicken "very good, not too soggy and not super dry." While this one reviewer didn't stand alone in their belief, more felt that there was room for improvement as Wendy's scored their lowest of a 6/10 in this category. Most participants guessed the restaurant correctly. This restaurant however has an overall score of a solid 29. 
Popeyes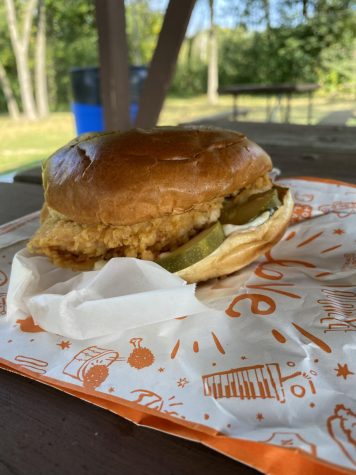 Popeyes was the final restaurant in this war. Starting out with looks, Popeye's sandwich was described as "pretty, but squished" and "golden and flakey; overall good presentation." This category scored a good 8/10. To describe the texture of the sandwich, participants stated it was a "spongy soft texture with thicker bread" and "squishy." Texture scored a 7/10 on average. Next was the chicken itself. Participants described it as "spot on" and "very sweet and crusty with a juicy interior." There were no negative descriptions of the chicken, and it earned an 8/10. The overall taste also did not disappoint. One participant stated "It was my favorite so far. It was very good and was sweeter than the rest of the sandwiches." Another participant explained how the chicken was "very sweet and crusty, with a juicy interior." These reviews easily earned Popeyes a 7/10 in this category and a 30 overall, making this sandwich our big winner. 
Although Popeyes was the true victor in this war, there were a lot of fierce competitors. The only sandwiches that were described as truly bad were McDonald's and Taco Bell. Taco Bell was just dry and needed a sauce, the chicken was burnt and just wasn't worth the money we paid for it. McDonald's wasn't as bad but also has severe room to improve. With two other chicken sandwiches on their menu, it might be smart for them to remove this sandwich and focus on the McChicken instead. Culver's came in 4th place with a wide variety of reviews, while some thought it needed severe help, others thought it was the best sandwich by far, making this sandwich a very love it or hate it type of sandwich. Chick-Fil-A came in as a fan favorite but only managed a number three on the podium. While this is one of the most well-known sandwiches out there, it was nothing more than good. While the sandwich itself was flavorful and not dry, it didn't compare to the top two on our list. Our dark horse candidate, Wendy's, came out with the number two spot on our list. Their sandwich was crispy and delicious, the taste of the overall bun, chicken, and toppings was quite good. Their only struggle was the taste of the chicken in which one reviewer thought the chicken was a bit lackluster but still good overall. But Popeyes ran away with the crown. They had the crispiest chicken out of all and had one of the best-looking sandwiches. Their sandwich was sweet but savory and had the perfect amount of sauce and pickles. While one reviewer thought it was a little too sweet for their taste, this sandwich overall was the best one we tried. 
Fast food is a staple in American life, it affects the way we live, and whether we admit it or not, it helps define our personality. Different people may like different kinds of food so it might be difficult to get an accurate depiction of the best chicken sandwich in the world. But while this may be difficult to accurately decide, right now the best sandwich is from Popeyes. While it's difficult to guarantee that it will stay the best, until some restaurant manages to beat it, they will have to have the best chicken sandwich ever created.