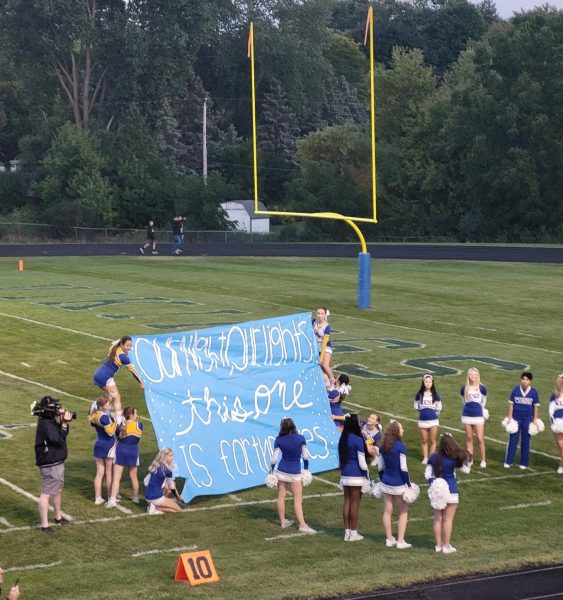 Hey guys! As you might know, the Ike vs. West game was severely hyped up for New Berlin West students. We were looking to defend our title against the cross-town rival New Berlin Eisenhower Lions, as we beat them last year 31-9 @ Ike.
When I got to the game, I was hyped up. I've been hearing stories about Ike losing almost all their seniors from last year. So from my perspective, we had a really high chance of winning. I got to the game fairly early, so I sat with a couple of my Cross Country friends about halfway up the student section. Waiting for the game to start, we were just talking about random things.
New Berlin West had much to cheer about early on in the game. Not even 2 minutes into the game, senior Jack Wesolowski scored a 10-yard rushing touchdown. Another senior, Jakup Taheri, scored an extra point. It was 7-0 in a blink of an eye.
Coming to the end of the first quarter, New Berlin West had the ball on the 2-yard line. NBW scored yet another rushing touchdown, this time by junior Sean Ryan. NBW had everything to be confident in. But shortly after, New Berlin Eisenhower had a good drive and scored for the first time. Sophomore Jarrett Hall scored a rushing 7-yard touchdown, then senior Luke Bokerman scored an extra point. NBW was winning 14-7 after that drive. Little did anyone know, that would be the last time Ike would score the entire night. It was all NBW from there on out.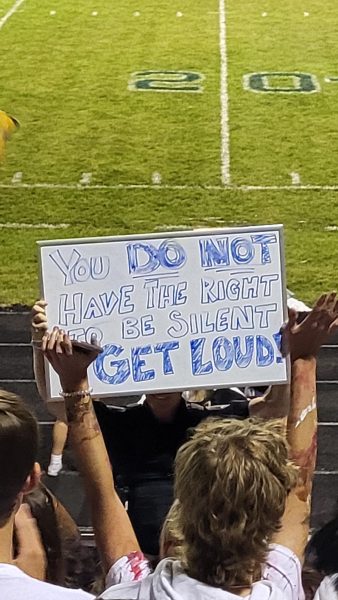 During halftime, a couple of NBW alumni walked onto the field to be honored. Afterward was where the girls' pom/dance team went onto the field at the same time as Ike. Then after that, the band had their very entertaining show.
In the 3rd quarter, NBW struck again, TWICE. Sean Ryan scored a 7-yard rushing touchdown and Jack Wesolowski scored a 5-yard rushing touchdown respectively. The score was now 28-7 NBW. Senior Jake Gardner and Wesolowski both attempted to sack the Ike QB, but Wesolowski was the one who came out on top. However, Gardner was also credited with the sack with the attempt.
In the 4th quarter, who else other than Sean Ryan came up big again, this time scoring a 4-yard rushing touchdown. It was now a complete upset at this point, NBW was now winning 35-7 with just under 4:30 to go. You may be wondering, why are all of NBW's touchdowns come from rushing plays? That was the theme of the game, rushing. According to wissports.net, NBW only attempted to pass the ball 4 times, completing none of them. Ike attempted 14 and completed 8. But also another stat from the game, NBW rushed the ball 58 times and got 378 yards from it! This was huge compared to Ike, who attempted 35 times and only gained a total of 17. There's an old saying, "If it ain't broke, don't fix it." NBW's head coach, Ben Chossek, said "We were one of the top 5 rushing teams in the state coming into Friday."
Lo and behold, NBW ended up winning by a final score of 35-7. Going late into the game, the student section was getting even more hyped. As soon as the final snap was called, students saw all the players lined up congratulating each other on the game. Students rushed to the gate in an attempt to rush onto the field. But were ultimately held up by Mr. Fesenmaier and Mr. Napoli. Once everyone was cleared off the field, students were then allowed onto the field after the victory. I wasn't going to pass up the opportunity to run onto the field as well.
As I was on the field, I was taking pictures of the scene. Everyone was hugging each other in celebration of the win. I took this as my opportunity to interview some of the players.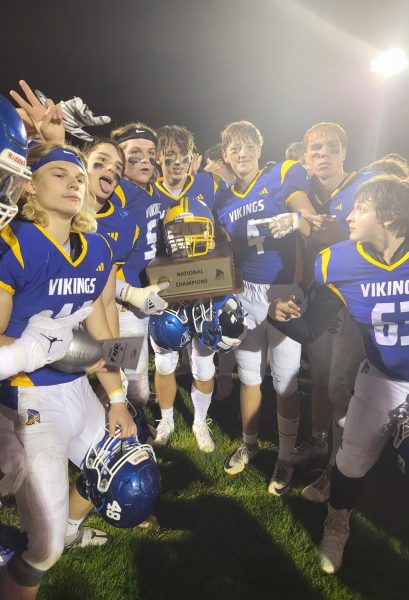 Late into the game, Jake Gardner's younger brother, Henry, got some playing time! The fans were chanting "We want Henry!" When asked about the playing time he got, he said "You know, you gotta do what you gotta do."
Senior Wyatt Doyle said "In our first half, we didn't come out as strong as we wanted to. But like I said, we just improved that by talking to the coaches and talking to each other. Communication is key. That's exactly what we did in the second half, and as you can tell it turned out pretty well."
Jack Wesolowski had an awesome night. Defensivly, he had 4 tackles (7 total), and 2 sacks. Offensively, he had 25 total rushing attempts with a total of 157 yards. That averages 6.3 yards per attempt. He also got 2 touchdowns from the night. When I asked him what he could do better to improve his game, he said, "I could just get more touchdowns I guess." Ike had no chance against Wesolowski that night it seemed like to his eyes. "Respect to them, but they just couldn't get to anything."
Jakup Taheri delivered an extra point each time he was given the opportunity, going 5/5. He didn't seem phased at all against Ike. "I missed some in previous games, but this game I didn't. I feel pretty good."
Even junior Charlie Benitez got in on the action. "It was a good team win. We tried very hard and came out on top. Ike had nothing they could do to stop out tonnage and girth on offense and we capitalized that." I told Benitez that Doyle said you guys communicated better. And just like Doyle told me, Benitez said, "Communication is key [especially] on the gridiron and we did a good job communicating this W into Ike's face."
Chossek had a couple of things to say about the game via email. "Even with a 35-7 win on Friday, there is plenty to work on.  [The] top priority is limiting penalties – we had far too many on Friday against Ike." They were able to overcome most penalties, but he said we need to avoid putting ourselves in negative positions moving forward.
Chossek also had a couple of notable players he wanted to shout out for their excellent respective performances. "Our OL and U back are opening huge holes for the runners: Lucas Hartung, Austin Bentrup-Trumbull, Jeremiah Morris, Owen Athas, Bennett Mueller, Wyatt Doyle, Jake Gardner and Brady Wojtiuk."
Congrats NBW for the win, great team effort! Well deserved!
(all photos were taken by Clayton Schrimpf)