"Crimes of the Heart" Preview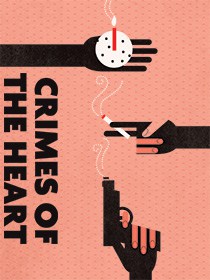 From April 12th to the 14th, West TAP will travel to the heart of Hazlehurst, Mississippi in the tragicomedy Crimes of the Heart written by Beth Henley.
The play will follow the lives of sisters Lenny Magrath, Meg Magrath, and Babe Botrelle, played by Alyx Knueppel, Audrey Moczulewski, and Olivia Vernon respectively.
Vernon, who plays the role of the youngest sister Babe, explained she chose to take on the role of Babe for the character's depth, and when she auditioned, "I personally connected with her the most, although she's a little crazy. I felt like, 'Yeah. I have the most connection to her.'"

Moczulewski plays middle sister Meg Magrath, who she feels is an exciting and challenging dynamic take on.
"She gets sensitive about particular topics," Moczulewski shared, "but, overall, she has more of a rough exterior, and she doesn't really care about what other people feel. And then, on the other side, she really cares about her younger sister, and always wants to keep her safe and make sure she's doing okay."
Brooklyn DiPietrantonio, who takes on the character of Doc Porter, shared that he auditioned without a set character. "It was my final show," he explained, "so, I was down to play anything."
In addition, there's Chick Boyle, the Magrath sisters' cousin described as the 'annoying cousin', who will be played by Payton Pruitt. Chick has a tense relationship with the sisters, and believes that they're a disgrace to the family.
The role of lawyer Barnette Lloyd is brought to life by William Detlaff, who shared he can see himself as a lawyer. "[I mean] personally, I don't want to be a lawyer when I'm older," Detlaff admitted, "but I feel like I have the professionality and the aura of a lawyer."
Vernon finds Babe's strength most interesting, saying it made her character equally more intriguing. Similarly, Moczulewski finds Meg's demeanor most captivating, describing it as, "'Life is going to go on.'"
DiPietrantonio mentioned how his character's is absent in the lives of the sisters up until the point in the play where he debuts. "A lot of his scenes are reuniting with these characters," DiPietrantonio explained, "and seeing how he interacts with them after a long time, and not seeing them, namely being his ex-lover."
Meanwhile, Dettlaff said Barnette Lloyd's vendetta with Babe's husband is the the most interesting part of his character, explaining that it connects to Lloyd's life in the past.
In an interview with a few members of the stage crew, two of whom are Aidan Alorfs and Chloe Smith, it's revealed that crew is constructing an old southern-style kitchen where the whole play will unravel.
Afterward, Vernon, Moczulewski, DiPietrantonio and Dettlaff were asked what they feel the audience will enjoy most about the upcoming performance.
Vernon hopes the audience enjoys the chemistry between the three sisters, explaining, "I think we have good chemistry on stage, and hope other people see it."
Moczulewski, on the other hand, feels the audience will enjoy the strong message about family. "Not all families are perfect," she explained. "And although, the sisters have a lot of faults, they all have different faults, but they still manage to come together and be a truly loving family."
"I think that it strays away from having ridiculous characters. It has really unique characters that are all really realistic without seeming too absurd or caricatures of themselves," DiPietrantonio shared.
In the end, Crimes of the Heart brings family values, humor, character depth, and sisterly bonds together to face the past.