Tennis Preview 2018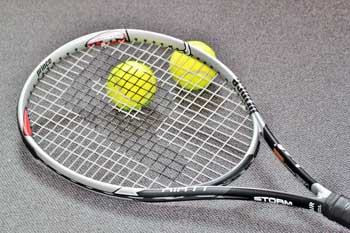 Spring is always an exciting time of the year for New Berlin West athletics. With the start of girls softball, track and field, boys baseball and boys tennis, West looks to make it a big spring. Boys tennis at New Berlin West is often overlooked and not acknowledged, but this season is destined to be good one and here's why.
Senior Evan Sadowski is unable to play tennis for this year because of an elbow injury. A recent MRI confirmed that his elbow will possibly require surgery for ulnar neuritis. This will definitely have a negative impact on the team, considering his freshman year he was a great asset. Evan was very excited to play this year, but unfortunately his injury prevents this. However, the good news is Jonathan Sadowski, younger brother of Evan, will be playing this year and is an outstanding player. Last season he won the conference tournament at one singles and took 6th at state as a freshman. As a top recruit for the class of 2020 in the nation, Jon has received interest from multiple high end division one schools all around the nation. With a lot of attention on "Johnny Boi," as he is nicknamed, it's a pretty safe assumption that scouts will be attending a few meets. This will also open up opportunities for other players on the team to display their skills.  
Johnny Boy reflected on last season, "It was pretty good. I won conference, got 3rd in sectionals, and 6th in state but I know I can do better." Jon has trained a lot for this upcoming season as he said, "I have basically trained every day and always try my hardest." He believes that he can become the best in the state at what he does. He said "place better in state as I know as I can win it. I just have to keep playing my hardest and always try to win no matter what".
Jon has a close relationship with his team even when focusing on his skills and getting better every day. "It always starts a little awkward as we don't really know each other," said Jon, "But at the end, it becomes a lot better and you have made some new friends". When asked about the first year seniors joining the team Jon replied "There were some seniors who played last year and they didn't know how to play, but at the end, they ended up doing pretty good". Jon has already been getting offers from D1 colleges as a sophomore and when asked about that Jon said "I have a couple of D1 offers from smaller colleges but I want some bigger and better colleges looking at me. I'm still a sophomore so I'm not that worried yet".
This is also a big year for second year head coach, Trevor Hill. In his first year, the team went 5-13 overall in duals, 0-5 in conference duals, and finished 8th out of 12 in the conference tournament. "Overall, we played a lot of good tennis throughout the season," said Hill, "We had a lot of close matches, some went our way and some didn't and that is the nature of sports." He also said that he is very confident that the program is headed in the right direction and looks to improve this year. Everyone will be expecting big things from Sadowski, but Hill made it clear that he will be expecting big things from everyone, "Freshman through Seniors, beginners to seasoned veterans….I expect everyone to bring their best to practice and matches everyday". Improvement from last season will be the focal point of this season. One of Coach Hill's goals is to work with developing the JV players into successful varsity players. Coach Hill said,  "The most important aspect for me as a coach right now is to make sure that all of the guys from JV to Varsity improve as tennis players".
Coach Hill was very pleased to see the amount of first year seniors at the informational tennis meeting in February.  "I am very excited to see them out on the courts this season," said Hill, "I know many of them are solid athletes, multi sport athletes, and very competitive guys who can have a positive impact in our program." He exclaimed, "I am looking forward to helping them develop as athletes and tennis players. As seniors, I am confident that they will bring valued leadership to the program". This tennis team needs new leadership as senior veteran Evan Sadowski will not be able to play this season and most leaders from last year's team were also first year seniors.
Chris Zavaleta, a first year senior, is just as excited as anyone else. Chris said "I can't wait to get out on the court and play with these guys, we have a lot of talent out there and Johnny Boi will take us many places and we will be good role players but also win our matches as well". The tennis team last year had many guys that were first year seniors and they had a big impact on the team. Chris hopes he can bring some of that same energy and maybe even better skills to the team. Chris went on to explain, "This is going to be my first year and I hope to be really good and help this team out a lot with my athletic ability". The team consists of multiple seniors that had no prior knowledge on tennis.
The 2018 tennis season is on the way, with the additions of first year players and the returning of previous players it's going to be exciting. Coach Hill is very excited to see how this season is going to unfold. In tennis a common goal for every player, including coaches will be to win conference and see what happens from there.