Fantasy Sports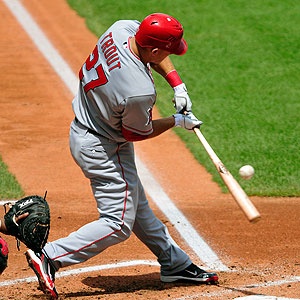 Fantasy Sports: a type of game in which participants partake as general managers for their own virtual teams. In 2017 an approximate 59.3 million people participated in Fantasy sports, and people who don't play are wondering: why?


People have been playing fantasy sports for as long as sports have been around, but the first official league started in 1980, when fantasy baseball was created. Sportswriter Daniel Okrent was at a get-together with his friends in a Manhattan hotel and they came up with the idea. The concept of Fantasy took off from that moment, as in 1984 fantasy football launched named the Fantasy Football digest, being co-authored by Tom Kane Jr. and Cliff Charpentier, and it became the first league published on paper.
By 1988 an article in the USA Today claimed that more than 500,000 people had been playing the game. By 1999 the Fantasy Sports Trade Association was founded, and fantasy sports had start to become a big thing. In 2003 the fantasy world had blown up to about 15 million people, and by 2007 almost 30 million people had been playing. With growth like that, channels such as ESPN, or NFL network, have started to devote separate shows with experts talking about the players you should have or not. Undoubtedly, fantasy sports have erupted into something huge.
Still, some don't have a whole grasp of what fantasy sports exactly are. So in terms of the most popular fantasy sport, football, usually a group of friends or co-workers or whomever get together in groups of usually eight to ten people and you set up a fantasy draft. A fantasy draft is just like any other draft that there is for sports, there is a set order, and you pick what is the best for you and what you believe. The player pool is anyone that is currently playing in the league as of the moment. In football there are many ways in which to customize your league, but most people set it up where you pick the primary positions on offense, which is a quarterback, a running back or two, a few receivers, a tight end, a flex (which is a extra running back, receiver, or tight end), a defense, and a kicker. You also get a bench to pick other players who might have better matchups, or put in if a starter gets hurt or has a bye week (every team has a bye week which is an off week). There isn't usually defensive players for fantasy football, but you do get a whole teams defense in normal leagues.
How does one win in fantasy football? Well, each week of the regular season you play a different player in the league, which would be one of those coworkers or friends. NFL games are played on Monday, Thursday, and Sunday. Depending on when your player plays, he will accumulate points for every yard, catch, touchdown, kick, sack, or whatever stat they put up. On Monday night when the last game of the week ends, whoever had the most points wins that game. It would work the same way for any other sport, except the stats and positions are different.
Basketball consists of all the positions from point guard to center, and points are accumulated through making shots, grabbing rebounds, throwing assists, or blocking shots. Of course for all the other fantasy sports you get points through doing anything from hitting a homerun, to scoring a goal. Whoever has the best records at the end of the set schedule, they'll play a playoff in a tournament type style, same format as the regular games, and bash it out again and whoever doesn't lose in the playoffs, usually claims the top prize that was set at the start of the year.
What about the people you are drafting? Do they even care about your fantasy team or are they just trying to do the best for their teams to win? Back in 2017 former Packers tight end Martellus Bennett tweeted, "I don't care about your fantasy football team," and goes on and says, "Thanks! Sincerely real life football guy."
In week eight of 2018, Todd Gurley, against the Packers, took a toss to the outside and was gone for a walk in touchdown. But the Rams being up and the Packers having no timeouts, Gurley ran into a Packer defender and was tackled.
"Man, forget fantasy and forget Vegas." Gurley said after the game.
Another occurrence is back in September of 2017 when a fantasy owner of Golden Tate, wide receiver for the Detroit Lions, needed a certain amount of points to win and he didn't end up getting enough. The fantasy owner tweeted at Tate and Tate ended up responding and said, "This is the real world and the Lions won. That's all that matters."
This ignited a flurry of tweets from players as wide reciever for the New York Giants Odell Beckham Jr. missed the game on Sunday and tweeted, "No offense. I could care less about ur fantasy teams. This is my Real Life. Focusing on gettin healthy and gettin better. 1 day at a time." Then a running back at the time for the Philadelphia Eagles, LeGarrette Blount tweets on the topic as well and says "I really could care less about y'all fantasy teams, get out of my mentions with that–." These examples show that playing fantasy football isn't really a fantasy. You have to depend on the players' effort and health to even begin with. You can't quite control every aspect of your team, but that's the challenge that comes with it.
Many individuals are involved with fantasy sports, as people with lots of experience call themselves fantasy "experts." There many certified experts in fantasy football as on fantasypros.com there is listed experts for the hundreds of fantasy sites. All over the place there are many shows where they discuss who to start, sit, add, drop, or trade for. They go over who has the best matchups and worst matchups. They also go over people who are considered "sleepers," those who might rise up and have better performances then expected. There can be great upside to the sleepers, but it could also cost you.
There are plenty of places to play fantasy football such as Yahoo, ESPN, NFL.com, CBS, or even classical pencil and paper and keep track of your stats yourself. Any of those sites are places to play, and most are free to use. Then there is FanDuel, a daily fantasy sports site. This site is very different compared to all the others because of the lump sums of money you can win on the site. The way you can spend money on sports has changed drastically. FanDuel isn't even legal to play in some states such as Arizona, Alabama, Hawaii, Idaho, Iowa, Louisiana, Montana, Nevada and Washington. To play on FanDuel, you must be at least 18 years of age and a resident of the USA or Canada. And 21 years of age to play if you're from Massachusetts. This is technically gambling, in form of fantasy sports. You pay certain amounts of money for certain players, and based off performance you get a payout. FanDuel makes plenty of money even though most of the revenue is returned into prize money, but they take a fee off winnings. In a game where the total entries are $6,896,550,  the winning pool of cash for players is only $6,000,000. Nigel Eccles, Lesley Eccles, Tom Griffiths, Rob Jones and Chris Stafford are the men who started FanDuel, and they are obviously living fine.
DraftKings would be another high-stakes fantasy sites. The total handle for each month in 2016 included totals like 300 million dollars being handed out. The highest total was in November of 2016 when it peaked at $419,302,327. The sites thrive during the NFL season, as during the offseason they make around half of that when other sports are being bet on. DraftKings and FanDuel arguably changed the stakes of fantasy sports forever.
Fantasy sports to some are useless. For others, it can be their favorite pastime. Regardless, fantasy sports were revolutionary to the world, and changed the way we watch any type of sport from football to golf. Regardless of what sport it is, people will pay attention if it can make them some money.