Review of It's A Wonderful Life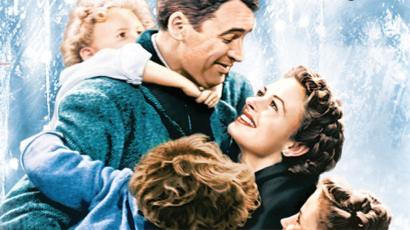 New Berlin West TAP, or West Theater Arts Program, has been performing shows for 10 years now, and It's a Wonderful Life is a wonderful show to kick off the year. Unlike other shows, this one has never been performed at West before and was performed on December 6th through the 8th. The first show on Friday the 6th had over 500 pre-ordered tickets, more than Newsies and Annie, both shows having almost sold-out opening night.
This play is based on the 1947 movie about a man named George Baily, who is played by Nathaniel Cadigan in West's performance. On Christmas, George thinks about ending his life. When he's about to jump off of a bridge, his guardian angel, played by Mitchel Anderson, comes to help. He goes around and shows George what the town would've been like without the good deeds that he's done over the years.  
The costumes fit very well for the time period. A few of the women wore fur coats, which were trending at the time. They also wore dresses since it was socially unacceptable for women to wear pants. The costumes were fitted well and nothing seemed too baggy or tight on any of the actors with a few exceptions. 
Set wise, there wasn't much of a backdrop, mostly just furniture and props. This can be good, though, because it allows the audience to imagine the setting in their own way. In the bank scenes, there were doors with a little bit of background around them so you can get an idea of what the bank generally looked like. 
From where I was sitting (towards the back), the crew was fairly unnoticeable since they were moving sets. The crew helps out backstage with props and sets so that the actors don't have to. During scene transitions, nobody could really tell they were there, which is kind of the point. Occasionally, you could hear people moving set during the show backstage though. 
Everyone knew their lines and had them memorized, and they did what they were supposed to. Especially Spencer Anderson, who played Mr. Potter, who is stuck in a wheelchair. Being stuck in one spot, it is difficult to give off the emotion since he could only use his face and hands. 
All the conversations and reactions seemed natural for the most part. It followed the movie well and overall didn't stray very far. The point of the show came across very well and the emotion was strong. The actors and actresses made the story come to life and it was definitely worth seeing. It was an amazing show and I personally really enjoyed it.