Vikings volleyball defeats Pewaukee as Team Honors Seniors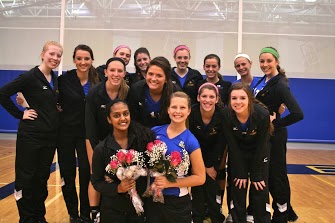 Three of four New Berlin West volleyball seniors, whom head coach Jim Burg and teammates said will be missed dearly, played a home match on Thursday as the team celebrated its senior night.
Before the match against Pewaukee, outside hitter Gina Pezze (who did not play due to ankle injury), setter Sarah Franzen, middle blocker/ outside hitter Eileen Herbers, and right side setter/ defensive setter Anne Radtke were honored.
"Although I have not known you girls for too long, it has been great to coach you all this season and I wish the best for next year," said first year Vikings head coach Jim Burg as he addressed his seniors.
Teammates showed their appreciation as they presented the seniors with flowers and speeches. Clear sportsmanship and friendship were present as teammates shared smiles, hugs, and laughs.
The parents of the seniors were by their sides during the ceremony.
Father of Anne Radtke said, "Anne did a wonderful job for her senior year, and I am glad to see her play." When asked what he thought of his daughter's accomplishments, he smiled and said, "Proud."
Sarah Franzen's mother was impressed with her daughter's ability to adjust to the new coach. Meanwhile, she described Sarah as a "leader" this year as she captained the game.
"Eileen has grown as a player and it is fun to watch," said engaged fan and father of Eileen Herbers. "The part I loved most is that it was a challenge for her, and she really stepped up… I'm happy and proud of her."
After the ceremony, players warmed up and prepared to play a conference matchup against Pewaukee. The Vikings won the first two sets, with a score of 25-16 in the first set and a 25-18 score in the second set. After a close 23-25 loss in the third set, the Vikings came back in the fourth set 25-16 for a 3-1 Vikings win. With this win, it puts the Vikings at an 18-10 record as they strive to make the playoffs.
The seniors all had a great night. Anne Radtke had 7 kills and team leading 12 digs to put her at 138 digs for the season. Eileen Herbers also contributed with 7 kills and 3 aces, with a total of 147 kills on the season, second most on the Vikings. Sarah Franzen helped lead the team to victory with 31 assists, 3 kills, 0 errors, 4 aces, and 8 digs, as she captained the team. Franzen has had 521 assists this season. Impressive contributions also came from sophomore Claire Radtke with 14 kills and 5 digs.
Although Gina Pezze did not play due to injury, she has been a huge asset on the team this season. Pezze leads the team with 228 kills, providing 3.9 kills per set. She has also had 20 aces, 126 digs, and 24 total blocks in only 54 sets this season. With Pezze continuing to play volleyball in college, her talents will continue to be recognized.
The Vikings are scheduled to finish off their regular season this week with home matches against Shorewood and West Allis Hale.
Sectionals are to begin on October 22nd.
Athletic Director Julie Kader recognized the Volleyball team during Friday's pep rally saying, "hopefully if the team keeps it up, we will have another great playoff run."
Leave a Comment