Music and singing voices fill PAC during New Berlin West's annual pops concert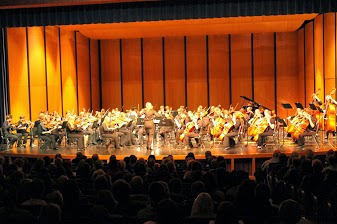 New Berlin West's performing arts, including honors orchestra, orchestra, treble choir, chamber singers, concert choir, and band all participated in the annual Pops Concert.  It's a unique year because it was the first that orchestra participated in the concert.  For most performers, this was their first concert of the year, but for band it was their final performance of the season.
The concert took place on Monday, October 29th and started at 7:30 p.m.  With free admission and new additions, this year's concert had the largest attendance.  Every seat in the PAC was filled with either parents or classmates.
Honors orchestra, dressed in all black, started the night by performing a single song with no conductor.  Some errors were made, yet the crowd gave a loud cheer nonetheless.  This group consists of select people originally from orchestra who possess advanced skills and participate at a higher level.
Seniors from orchestra, Anisa Dhillon and Holly Tyler said that they believe, "This is going to be a successful year for orchestra because Ms. Staden challenges us to achieve more and perform well at concerts."  Ms. Staden is the new orchestra teacher, and with the new season, there could be many new changes in orchestra's future.
Freshman Emma Verdun said, "This night was very exciting because I think we performed very well, and the Pops Concert is one of my favorite places to perform."  Verdun takes part in the school's regular orchestra along with Dhilon and Tyler.  Orchestra took the stage second and they played four songs: Blackbird, Moondance, Irish Party, and The Beatles Forever.
Once orchestra completed their repertoire, Treble Choir filed onto the stage preparing to sing.  Treble Choir consists of only girls, and they all wore long, black, silk dresses.  They sang a total of three songs: Dancing Queen, Adele's Someone Like You, and Pure Imagination from Willy Wonka.
Chamber Singers went fourth and junior, Marisa Bernards said, "I am proud to be a part of Chamber Singers, and I am excited to see our talent grow throughout the season."  After their performance of three songs the audience gave them a loud applause.  They sang Just One of Those Things, Vincent, and Over the Rainbow.  Chamber Singers is the most prestigious group of singers at New Berlin West and in order to become a part of it one must audition and be accepted.
Concert Choir took the stage next.  They are the biggest group of singers and they sang three songs: Beautiful Sounds, Sound of Silence, and One Day More.
Both Concert Choir and the Chamber Singers wore blue robes, just with different colored stoles.
Band was the last performance of the night, and they began with the drummers on the stage.  The rest of the band marched through the aisles playing their instruments, and making their way to the stage.  Color Guard was twirling their flags on the stage in front of the Band, and in between songs they switched the type of flag they used.  When both groups concluded, all the members marched off the stage with the crowd applauding.
Audience member, Taylor Harmon said, "This was my first year attending the Pops Concert and it was very enjoyable.  All the performers were excellent and I plan to attend the concert again."
Leave a Comment